there is one software that you need to draw the best 2D and 3D designs is AutoCAD. However, it does require a brilliant and powerful machine to help you reach the full potential of this software. So, you can check out the list of the best laptops for AutoCAD so that you can also make the most accurate designs for your work.
If you have never worked on AutoCAD before, there are tons of other features as well that you can make the best use of. Apart from simply 2D and 3D designs you can also work on regeneration, object storing, and much more. Some of the major aspects that you need to check off your list while selecting a powerful machine include a considerate performing CPU with a high-functioning GPU that can handle loads of functions.
Similarly, the same goes for RAM as well as storage. Just enough to be able to perform multiple tasks and handle the large-scale 2D and 3D design data. Now, let us look at the list of the best laptops for AutoCAD here.
1. Introduction to AutoCAD
AutoCAD is a popular computer-aided design (CAD) program used in the construction, engineering, and building fields. Professionals can use it to make accurate 2D and 3D drawings, models, and animations. You need a laptop that satisfies AutoCAD's system requirements and has excellent graphics processing power in order to run it smoothly.
Related Article :
2. Minimum System Requirements for AutoCAD
Let's quickly review the minimum system requirements for running AutoCAD before getting into the best laptops:
Processor: Intel Core i5 or higher
RAM: 8GB or more
Storage: Solid State Drive (SSD) with at least 256GB
Graphics Card: Dedicated GPU with at least 4GB VRAM
Display: Full HD (1920×1080) or higher resolution
Operating System: Windows 10 or macOS
Meeting these requirements ensures that you can run AutoCAD smoothly without any performance hiccups.
3. Key Features to Consider
Think about the following essential characteristics when selecting a laptop for AutoCAD:
Processor
For efficient multitasking and handling resource-intensive tasks in AutoCAD, a powerful processor is essential. For the best performance, look for laptops with AMD Ryzen 7 or Intel Core i7 processors.
RAM
Ram is heavily used by AutoCAD. To ensure smooth operation and the management of complicated projects, aim for a laptop with 16GB or more RAM.
Graphics Card
A dedicated graphics card is required for AutoCAD to render and manage 3D models. For the best performance, look for laptops with NVIDIA GeForce GTX or Quadro series cards.
Storage
To manage large AutoCAD files, a quick and roomy storage solution is essential. Choose laptops with SSDs over those with conventional hard drives because they provide faster read/write speeds.
Display
For working on intricate drawings and designs, a high-resolution display with accurate color reproduction is essential. Look for laptops with displays that are Full HD or higher in resolution.
4. Best Laptops for AutoCAD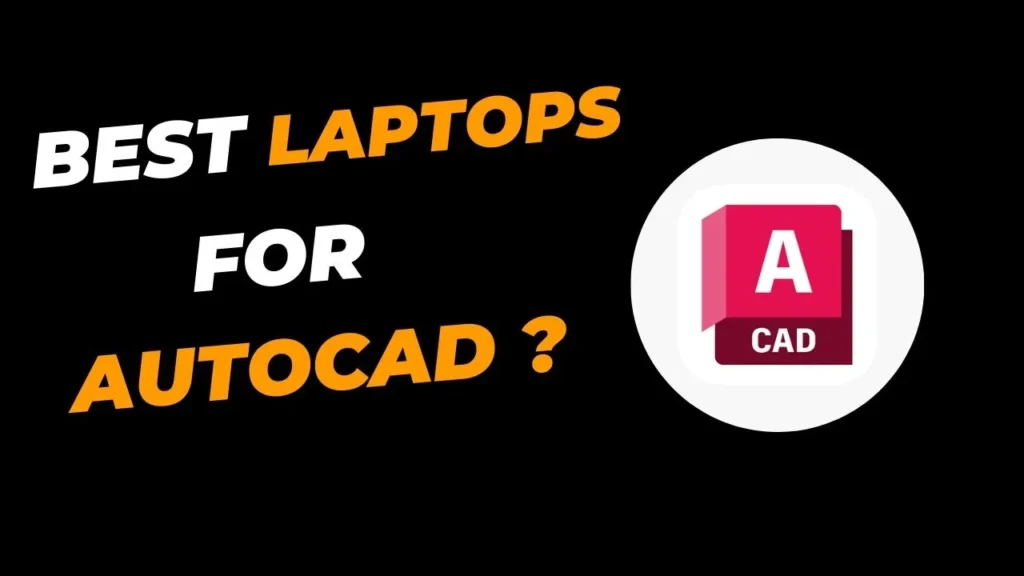 Acer Nitro 5 – Best Budget Laptop For AutoCAD
There is no better way to get started with the list than listing the best laptop that might fit in perfectly with your budget. Acer Nitro 5 is known to be a Gaming centric machine but has every feature that you need to run AutoCAD or any other 3D software such as Revit or SolidWorks, etc.
It runs on the 9th gen intel core i5-9300H processor that gives a clock speed up to 4.1GHz. Any machine that can run this software must have a cracking GPU card and this laptop is equipped with NVIDIA GeForce GTX 1650. It has a 4GB VRAM that helps in 3D modeling and other tasks related to it with ease. Moving on, the 8GB RAM along with the 256GB SSD storage is ready for an upgrade anytime the need arrives. They help to launch your software in no given time and allow multitasking too.
Read More : Best Laptops For Teachers Of 2023
Dell XPS 15 – Best Budget Laptop For AutoCAD
The Dell XPS 15 is a top pick for AutoCAD professionals thanks to its potent Intel Core i7 processor, plenty of RAM, dedicated NVIDIA GeForce GTX graphics, and stunning 4K display.
ASUS ROG Strix G15 – Best Gaming Laptop For AutoCAD
For every professional or designer, here we have another high-level AutoCAD running laptop that is simply one of the best. ASUS ROG Strix G15 might be a little steep on the price but does have everything at its best. It runs on the latest 10th gen Core i7-10750H processor and can handle all the difficult tasks to create the best designs you can think of.
Similarly, the NVIDIA GeForce RTX 2060 with 6GB RAM is brilliant and handles all the rendering process pretty easily. To bring the software to work at ease, the 16GB RAM works perfectly well and with the use of 512GB SSD storage, you might have it all. It is enough to run the required datasets and other files. As we speak of the amazing 15.6 inches full-HD display, it features a 144Hz refresh rate to bring the best of all your creations.
With the use of such software, your system might get overheated in no time. To tackle this, ASUS ROG has an Intelligent Cooling thermal system making sure there are no lags while you work on it.
HP ZBook Studio G7
This portable workstation is ideal for AutoCAD users as it features an Intel Core i7 processor, up to 32GB RAM, NVIDIA Quadro graphics, and a color-accurate display.
ASUS ROG Zephyrus G15
This gaming laptop is a solid option for AutoCAD users thanks to its AMD Ryzen 7 processor, NVIDIA GeForce GTX graphics, and high-refresh-rate display.
Apple MacBook Pro
With its Intel Core i7 processor, AMD Radeon Pro graphics, and Retina display, the MacBook Pro for macOS users offers impressive performance that makes it suitable for AutoCAD and other design applications.
FAQs
Q1. What laptop is best for AutoCAD?
The best laptop for AutoCAD should have a powerful processor (Intel Core i7 or AMD Ryzen 7), at least 16GB of RAM, a dedicated graphics card (NVIDIA GeForce GTX or Quadro series), a solid-state drive (256GB or more), and a high-resolution display (Full HD or higher).
Q2. What are the minimum system requirements for running AutoCAD on a laptop?
To run AutoCAD smoothly on a laptop, you'll need a minimum system configuration including an Intel Core i5 or higher processor, 8GB of RAM or more, a solid-state drive (SSD) with at least 256GB of storage, a dedicated graphics card with 4GB VRAM
Q3. Are gaming laptops suitable for running AutoCAD?
Gaming laptops can be suitable for running AutoCAD due to their powerful processors and dedicated graphics cards. However, it's important to ensure that the gaming laptop meets the minimum system requirements for AutoCAD and has a reliable cooling system to handle extended periods of heavy workload.
Conclusion
Here we have everything you need to know about the best laptops for AutoCAD. Hopefully, you might have selected the perfect option for yourself and made the best out of it. We agree there are hundreds of options in the market and it can be next to impossible to go through all of them especially when the requirements are so specific and high budget. It is better to go through a smaller list such as this and make your choice likewise.
If at all you are stuck and cannot decide which one is the best, let us know what you are looking for in a system and we might be able to help you out. Thankyou For Reading "best laptops for AutoCAD" My Article.